---
Talking
---
Interviewed at

Public Traveller, Astronomy, and Knitting
The Savvy Girls Podcast ep. 61
Knit-a-Journey
---
Contributing
Chop Bard
Cast-On
Quirky Nomads
Teaching
Hand Knitters Guild of North Central Texas
Dallas Handknitters Guild
at the Knitting Fairy
September 14-16, and 17, 2012, respectively
---
Prince William Purlers
October 20, 2012
---
The Red Thread, VA
October 27, 2012




Hire me!
In Loco Parentis




It is nearly one metric lifetime
since I strode out on this path,
confident in my place,
secure with my
mission--


In Loco Parentis.


I care for them as my own.
Their minds
and lives
in my hands
for seconds.


No one warned us
what
seconds
could bring.


The older kids joke now
the horror . . . the horror . . .
but do not laugh.
They at least have
some words to use--


a touchstone

a language that helps process


the unbelievable
the undesirable
the incomprehensible






Nathaniel ran up next to
me--
I'd known him almost
four
days--


"It's okay now--I'm with my favorite teacher."


As though . . .


What can I offer as comfort?


The ash.


Peter.
Roy.
Kerri.


Three faces burned in memory.
Three innocents.
Childhood's end.
Faces frozen in time and dream
my own
hellish
Personal Rushmore
that haunts me at night.


Looking behind me
at what I could only see reflected
in their eyes.


Their eyes seeing the ash
roiling
towards
them.


Me screaming
desperate
to keep at least them
close.
Safe.


And then,
in fifteen seconds
all of them--
one hundred and fifty of them--
all of them


Gone.




The ash
and
the darkness
and
their feet
take them from me.


And I am alone.




In loco parentis




I sit on the edge of my world
listening to the universe sift silently into the Hudson.


And I wait.


I wait for death.
It was everywhere around,
but clearly too busy just
a little
north.


Too busy to notice us.


Then a disk to the
left,
some blue to my
right
death recedes.


And the children all come out.


Olly Olly Oxen Free.


The first two, smiling survival
at me.


The next ten crying.


Innocent no more.


And now?


We do . . .
what?


Look upon my works ye mighty
and despair.


What do I give my kids now?
What rule?
What etiquette?


What plan?
What future?


How can I teach them anything
when instead of me--
a parent in absentia--
they only had ashes.


And the silence of a


broken world.





Heather Ordover
October 15, 2001

Related Links:


The stories my students wrote about their experiences on September 11th. To see a map and other pictures: click here and widen your browser as much as possible. Some pics are rather big... a>



These are pics from my classroom as of 10/26/01. We were allowed in briefly to grab a few essentials--the kid's college essays, novels with all of my notes, things like that.



A poem I wrote about the 11th






Writing and Designing
buy now
What Would Madame Defarge Knit?
buy now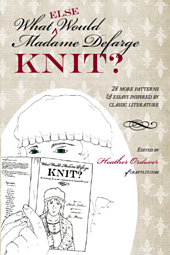 What (else) Would Madame Defarge Knit?
buy now
---