I'm always knitting.
I should post more.
Therefore, WIP Wednesdays!
To learn more about the meme, visit Tami Amis' blog post describing the gig.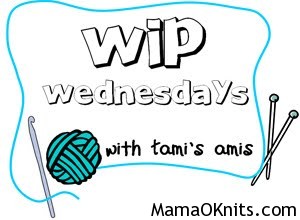 This week, I'm working on a simple shawl pattern I found at MDSW. It was my birthday present from my DH and is that kind of lightweight summer shawlette that's perfect when you live in a land of heavy air conditioning (NoVa). It's called Surf Escapades by Jacqueline P. Jones for Carodan Farm. Inspired by Chincoteague and Assateague Islands, the pattern yarn was (not surprisingly) sold out, but we found some Mini Mochi (#317) that subbed perfectly. Shockingly perfectly.
Score!
I'm about halfway through (Rav here) and really enjoying the pattern. It's not simple, or easily memorizable the way some of the trending patterns are, but it fits my needs perfectly, hangs in a way that will work for my summer shoulders, and is lovely in the great, light, sea-foam-ocean-colored blend that's striping-up nicely.
If you're a new lace knitter, know that the "B" stitches (knit through back of loop) are there to twist previous yarn-overs. This tightens the patterning nicely to give the yarn-over holes crisp outlines, but it also means that you can tell if you're getting off-pattern-stitch-count because you'll hit a B on a pattern and realize that you're about to twist a regular old stitch. This helps a lot. Stitch markers are also a mercy—though you'll have to fiddle with them in some rows as the YO/SSKs that appear at the end/beginning of some rows cross over the markers (when the ssk takes one st from before the marker and one after).
Aside from that, I'd say this is a lovely pattern for a new lace knitter as the weight of the yarn keeps it from being fiddly, and the full size from being too overwhelming. For a practiced lace knitter it's easy TV knitting.