I learned how to make this shawl so long ago, I don't recall the when or the where. I made a lot of them. They were easy—and because of this pattern I never had a fear of short-rows. I was doing them without knowing they had a name. Students who had just learned to knit in the wake of the 9/11 attacks helped me knit one for our principal (see below). You can see how lovely the shawl can be with completely random (though related) colors used all throughout the short-row process.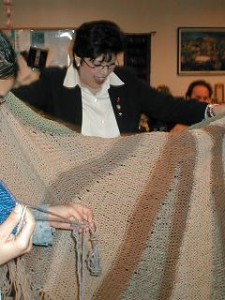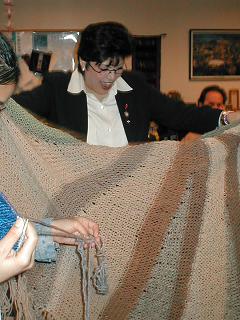 However, I was never able to do a wrap-and-turn as perfectly as I wanted. So, what to do, what to do…?
The answer?
Wait until I learned how to do a Sherman Heel, then apply that technique.
All of short-row information is included in this pattern along with instructions for two different edgings. The shawl can be knit in garter or stockinette, however, be warned—in stockinette it is much harder to hide an imperfect short-row-gap-turn.
While I'm not a fan of garter stitch in general, I am a fan for it as part of this shawl. Big, warm, and snugly, this quick-to-knit shawl will become a favorite of yours as it has become of favorite of me and my friends.
The link below will take you to Ravelry (you don't need to be a member). More patterns from me are available from my Shoppe or through the Craftsy link below.
Skills—
knit stitch
short-rows or ability to follow a pattern on blind faith
optional: chain and single crochet for alternate edging
Size—
Gauge—
not terribly important; blue sample knit at 10 stitches = 4in
Yarn—
Lion Brand Wool-Ease for blue sample
Needle—
US 13 (9 mm) straight or circ
Notions—
99 ¢


All patterns also available via:
Bonus pattern—a dryerball with a pincushion option!
Skills
knitting in the round
increasing
decreasing
Size
in this case, it is true: size doesn't matter
Gauge
any tight gauge (to keep the stuffing in)
Yarn
sample knit in handspun; WPI 7; Roughly CYA #5, bulky
Needle
flat, dpns, or 1/2 circular needles; samples knit with US 5 (3.75 mm)
Notions
Dryer balls made of wool (with or without an added essential oil) give you an economical "dryer sheet" substitute. These easy-to-knit balls can be made of scraps, filled with scrap yarn, thrums or roving, and can easily be knit start-to-finish in an evening. Portable pincushions are always useful when blocking knitted objects, so use these little gems as away to use up all the *early* handspun you made.
Pattern is written for knitting-in-the-round, though seaming instructions are included if you are knitting flat. Flat knitting will need to purl all odd rows.