Ooooooh! Do I have a cute book for you!
Do you like to crochet?
Do you like to crochet for kids?
Do you like a path to follow like, "do this for January, and this for February, and … " — if so, then I have a book for you!
Crochet for Baby All Year: Easy-to-Make Outfits for Every Month
 by Tammy Hildebrand.*
There are some extremely clever crochet patterns in this adorable book—including his-and-her stegosaurus onsies (long legs and sleeves for Halloween), June's crocheted beach "flip-flops" (which may not be all that functional, but they are darn cute!), and a makes-me-hope-my-sons-have-daughters-one-day little girl dress that is "Pretty as a Posy" for April.
My fave, though, both for construction and look is September's back-to-school set: a letterman's sweater and cheerleader uniform.
Too!
Cute!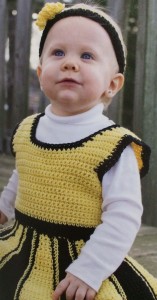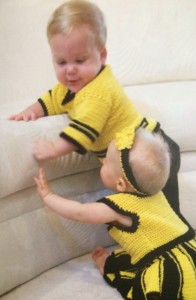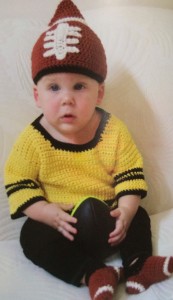 This is not a book for beginners—though I'm confident that if you know sc, dc, and hdc and have a reference book by your side you'd be able to find something you could do in here (boy's swim trunks? several of the hats?)—but if you're an experienced crocheter I think you'll find some nifty things to keep you interested. The construction of that gored cheerleader skirt, for one.
All in all, I found this to be another lovely entry from the ever-busy Tammy Hildebrand. I loved her previous book (and had fun corresponding with her back then) and this looks like another winnah!
A note on the physical book itself: since CraftLit has gotten on Stackpole Books' mailing list, I'm finding myself very impressed with the quality of the book itself. I like the covers—they're made with a matte finish, but it's a matte that feels really silky under your fingers. Very nice. And I like that they have not only a "Yarn and Suppliers" and "Abbreviations" pages at the end of the book, but they also have a visual index, so for those of us who are visual learners (she said raising her hand) it makes it very easy to find the pattern you remembered seeing but for which you can't remember the name (or in this book, the month).
And best of all—you could win a copy!
During the month of August 2014, visit the CraftLit giveaway page to find out how to enter.
And did you know about:
*All Amazon links on this blog are affiliate links. Clicking from here, going to Amazon, and buying… anything, helps to support the CraftLit podcast—with no cost burden to you. If you do choose to click-n-buy from here, thank you!