You can find out more about the What Would Madame Defarge Knit book series at its own site.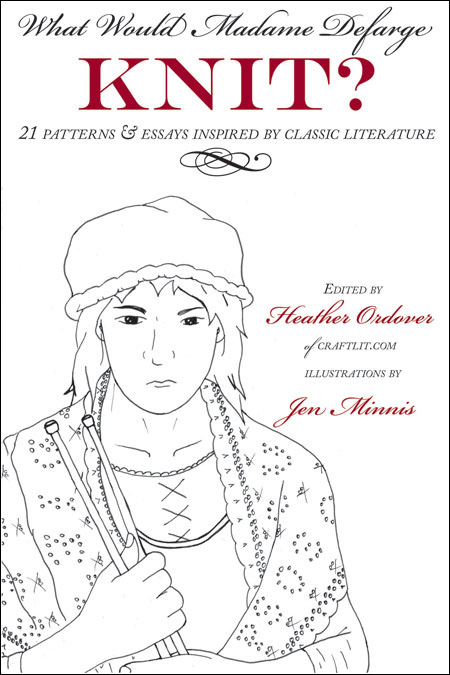 What Would Madame Defarge Knits?
Volume 1 is available now in print and electronic formats.
You can purchase it in print through Cooperative Press, your local yarn shop, print-on-demand if you're lucky to have an Espresso Book Machine, and Amazon
.
PDF is available through Ravelry and Cooperative Press.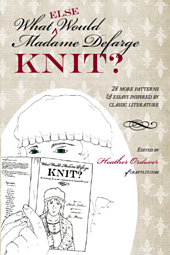 Now Available!
What (else) Would Madame Defarge Knit? is the second book in the What Would Madame Defarge Knit? series. It's more than just a pattern book — it's a treasure of links, essays, and designs to entertain your hands AND your mind. In its 200+ pages, you'll find more than 25 knitting patterns (and one weaving pattern!) designed to delight your inner bibliophile.
Join the mailing list for exclusive news about the next book's release!
Order your copy today!
* * *
She's back. Madame Thérèse Defarge, a character in the book
A Tale of Two Cities
by Charles Dickens, worked the names of the condemned into her knitting as she sat near the ever-active revolutionary guillotines. But Dickens never described what Madame Defarge was knitting.
As in the beloved first volume in this series, this book brings together a host of knitting (and weaving!) talent to imagine what their beloved fictional characters would knit and wear. From Tristan and Iseult to Jane Bennet to Miss Marple, characters from many of your favorite books finally get the knitwear they deserve.
Reviews:
"I loved these essays and patterns! Fans of the first book will not be disappointed."
— Marie Irshad, KnitCast podcast
"This wonderful collection of essays provides a delicious narrative for the companion patterns, and the patterns bring color to the classic stories that inspire their design. Together, patterns and essays bring a fresh perspective on old friends, breathing new life into classics I thought I knew well. The patterns are wonderfully inspired, such that knitting and reading are brought together in a unique way where each adds depth to the other."
— Sally Holt, Managing Partner, Create2Thrive LLP
"Every time you wish for something in this book, it shows up."
— Dr Gemma, CogKNITive Podcast
Patterns:
Browse information about the patterns on Ravelry.
Designers:
Kate Atherley, Alex Aulisi, Carrie Bradfield, Cassandra Deavers, Todd Gocken, Becky Greene, Hunter Hammersen, Erica Hernandez, Becky Herrick, Shelia January, Deirdre Kennedy, AnneLena Mattison, Jennifer Mauser, Wendy McDonnell, Heather Ordover, Laura Ricketts, Kathleen Rogers, Natalie Servant, Penny Shima Glanz, Saranac Hale Spencer, Julia Temisevä, Diane Trap, Meg Warren
Photos by Caro Sheridan unless otherwise specified.