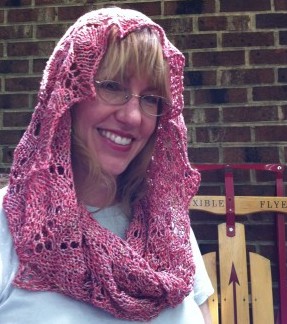 My sister thought a knitted Möbius was not possible. But I knew the Cat Bordhi secret! So I took inspiration from my sister's way with animals. The main pattern is Fawn's Eyes—because, yes, deer have walked up to my sister. I added a lace edging that used the same stitch repeat number so you don't have to move those pesky markers.

Skills required:
- knitting in the round
- Cat Bordhi's Möbius cast on
The pattern includes a detailed photo tutorial on how to block the points on the Möbius.
People who bought this item also bought
Updating...