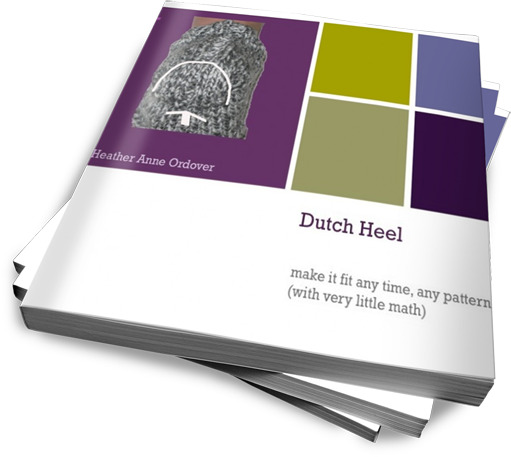 These eBooks can be purchased individually for each heel type. A compilation book with all sock heels will be released soon.

The Dutch Heel is a very straightforward heel with no bells or whistles. It's a good general-use heel as it fits most feet just fine.
However, if you aren't entirely sure of someone's size, or if you realize that you forgot to subtract a bit (10%) of your calculated cast on*, you may want to try a German or Welsh heel instead.
*subtracting 10% gives you a slightly snugger fit without compromising comfort. If you knit exactly the precise number of stitches per your gauge to fit the measurement of the foot you're knitting for, you're likely to get a saggy sock.
The German Heel is really quite lovely.
It has an extra four stitches at either end of the heel flap, giving the side of the foot a lovely decorative edge. Because of this, the heel will pull in a bit between the ankle and the back of the Achilles tendon. For those who prefer a snug fit, this is perfect.

If you're lucky enough to have visited Wales* glancing at the instructions for this heel will make as much sense as the pronunciation of Llanteg. The heel requires real concentration the first time through but charts and schematics help. The end result is well worth the effort.
Actually, not unlike reading The Mabinogion.
*If you're lucky enough to live in Wales, you should know that I tease, but would pay real money to live there. Dear Lord, but that place is gorgeous. And the food was great too!
Updating…