Quick Knits for Holiday Gifts—and my WIP Wednesday!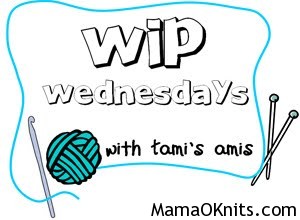 I found two patterns for you that are knitting up fast and happy.
I love this and actually found it from Tami Amis' WIP Wed post a few weeks ago. It knit up super fast. I was even able to knit the rows at a movie without any problem. And it really and truly DOES NOT require blocking! I made it in a light worsted on US10 needles and couldn't be happier. More are on the way!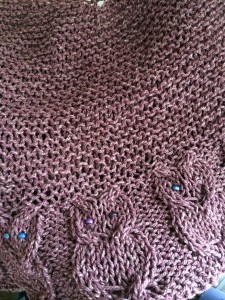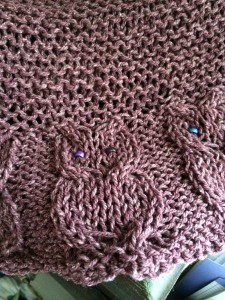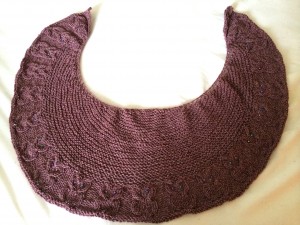 The other pattern is for slippers. Chunky, happy slippers. I'm making mine in washable chunky yarn, (Charisma. Yes, Michael's, sue me). Fast. Easy.
Did I mention fast?
I'd looked at patterns like these but then found this one by Cathy Carron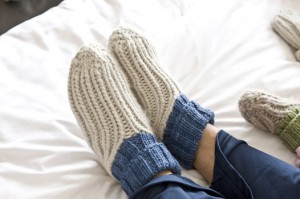 which you can get through Knitting Daily as one of 6 "free easy patterns" (you do have to give them your email–see below). Superfast chunky foot and quick-like-a-bunny upper in worsted. I have found these to be easy and fun in that mindless-knitting-sort-of-way. And in these hectic days before the Holiday Onslaught, I like my idiot knitting quite a lot.
You?
The test set went to Thing 2. He won't take them off (witness the wear-and-tear pilling–yes, Michael's, I know). He doesn't care.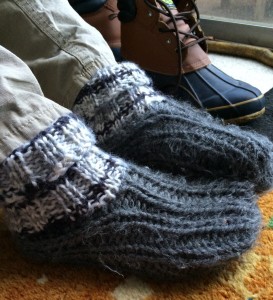 ---
Suddenly, my email box is full of useful stuff.
Wha-?
First in line: Unroll.me.
Have you signed up for store mailing lists? (If not, how did you manage that?!) Or have you signed up for enough that you don't recall all of them, can't unsubscribe from all of them if you tried, and find that store emails clutter up your inbox and make it harder for you to read the stuff you want to read? (Like, say, an emailed post from MamaO?)
If so, check out Unroll.me. So far it's free. You tell it your email then it goes through it and finds ALL OF YOUR SUBSCRIPTIONS. You spend 5-10 minutes reviewing the subscription list and make choices between:
If you choose "roll-up" you'll get a "daily digest" type email in the morning with all of the previous subscription emails included in a nice graphic format. Things that are time-sensitive I haven't rolled up. Lots of store things I've unsubbed from with the click of a button. Quite a few things I've left as-is because it's news I want to get when it's released (a lot of podcast pings I've left in real time).
So! Nifty!
Another nifty is Tweriod. I don't have the love affair with Twitter that some of my friends do. However, I know that between Ravelry, Facebook, and Twitter I can reach almost all of my podcast audience so that puts me in a position where—until the podcast software catches up with where I wish it were—I have to reach out in whatever goofy ad hoc way I can.
Yet something that's always bugged me is that I'm in EST and a good chunk of my listeners aren't. If I'm going to doodle around on Twitter, I'd rather not be wasting my time… when should I post things? Tweriod saves the day!
Sign up (free) and Tweriod will read your Twitter feed then give you a report of when your followers are online and active.
Sweet!
Anything new and super useful that you've found? Let me know below!