There are some books and movies I've mentioned on the podcast lately, but I wanted to be sure to mention them here, too.
Friends are doing great things and I thought you might want to take a peek.



My friend Dave Garret is a force of nature. I met him while watching and working on my husband's plays lo' these many moons ago. Well, now Dave turned his eye to film making. Even more fun for me, the movie stars my friend from theater school, Jennifer Reagan, hands down one of the top two most talented actors I've ever had the pleasure to know.
If you like family dramas, then you'll love Ten Stories Tall (also starring Ally Sheedy and Tovah Feldshuh). You can now stream or download the film on your television or watch it right on your computer at Amazon, iTunes, YouTube, Google Play, PlayStation, CinemaNow, or Vudu.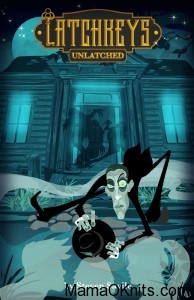 Latchkeys!
If you have Tween-to-Teen readers in your house who like smart-spooky (but not TOO spooky) stories, look no further.
Bob Greenberger, one of the writers in this compilation of short stories, is a friend of CraftLit. And I'm pretty happy about that because my boys love this book!
Viking mythology, clever science, and science fiction all play a part in this series of tales. Fun for everyone!
And finally, my book is out!
And I learned something odd about writing a novel. I was recently at a yarn store and as I usually do when I'm at a new-to-me store, I bring copies of the Defarge books. That's two Defarge books, now. And I pulled those out and everyone was, "oh…nice…" and then I pulled out the novel and it became, "can do you do a signing? can you do a reading?" (Yes, and yes.) But it was absolutely surreal. Very "you aren't a 'real' writer unless you write a novel." (Oooh, and I'll tell you more about socks and shawls next time!