So excited!
I made a video which gives you a little overview of the—not one, not two, but THREE class options I can now offer you in my Sock Heels-a-GoGo series!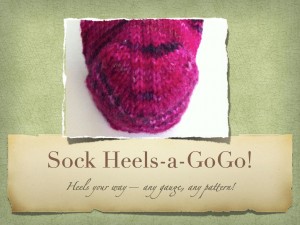 The very helpful folks over at the KnitGrrl Ning site gave me some great ideas and Shannon agreed to let me try this. It gives you more choices in price and toe-up/top-down options—and I'm all jazzed about both of those things.
Here's the video and below is a sign up for the full course. Or you can navigate via this link to get to the mini-courses.
Full Class  

Toe up Heels ONLY Mini-Class

Top down Heels ONLY Mini Class