Casey and Rosie—oil and water to start… so, then what? A lovely vinaigrette once they get to know each other?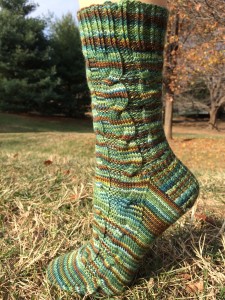 Young love is so tough, even in the best of times—and  Casey and Rosie aren't that lucky. What is the Chinese curse? May you be born in Interesting Times? Well, then they are cursed indeed.
And blessed.
Because regardless what else happens, they did find each other.
They know the other is there.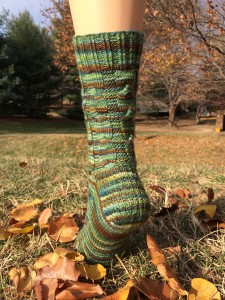 Somewhere.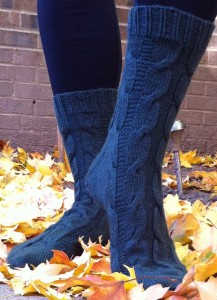 Loving.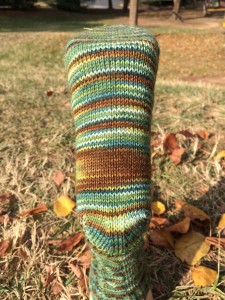 These socks, designed by Meg Warren of March Hare dying and Defarge book fame,  are cabled—if you knit tightly they will be tight. If you knit loose, they will be loose and soft.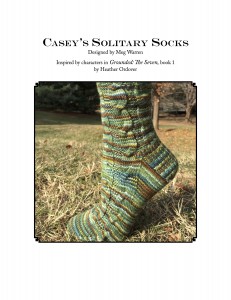 Materials
Happy Fuzzy Yarn Corrie Sock (75% Superwash Corriedale wool/25% nylon; 435 yards [395m]/ 4 oz [114g]) 1 skein; shown in Rain Forest colorway — or substitute any true fingering weight yarn
Sizes S&L: US#1 [2.25mm]
Size M: US#1.5 [2.5mm] needles for circular knitting
Stitch markers to mark beginning of round
Tapestry needle
Size
Women's S, M (L); To fit foot circumference 7.5, 8  (8.5) in [19, 20.5 (21.5) cm]
Gauge
Sizes S&L:  36 sts and 50 rnds = 4 in [10cm] in stockinette
Size M:  32 sts and 45 rnds = 4 in [10cm] in stockinette
Measurements
Foot circumference, unstretched: 6.75, 7.5 (8)" [17, 19 (20.5) cm]
Finished leg length: adjustable to fit
Finished foot length: adjustable to fit
Pattern Notes 
Instructions are provided for Size S/M with Size L shown in ( ).  Sizes S&M differ from each other in gauge rather than stitch count.  For a medium size foot (shoe size 7 ½ to 9) follow the instructions for Size S, but aim for a gauge of approximately 8 sts/inch for a proper fit.
---
| | | |
| --- | --- | --- |
| | Mina's Protective socks, designed by Heather Ordover, are a handsome, classy pair of socks. Knit in Riin Gill's Happy Fuzzy Yarn (Corrie Sock in Shadow) they will hug you and not let go—but in a way that you really won't notice they care. | |
| | Justin's Stubborn socks, designed by Meg Warren (of March Hare dying and the Defarge books), are a handsome, classy pair of socks. Knit in Riin Gill's Happy Fuzzy Yarn (Corrie Sock in Shadow) they will hug you and not let go—but in a way that you really won't notice they care. | |
| | Jasmine's Ethereal socks, designed by Meg Warren (of March Hare dying and the Defarge books), are an easy knit which get you a stylish pair of firm, warm socks. Knit in Riin Gill's Happy Fuzzy Yarn (Corrie Sock in Lavandula) they will give you quiet confidence in your Clogs or Crocks while you go about your daily grind. | |
| | Jenn's socks, designed by Meg Warren (of March Hare dying and the Defarge books) are an easy knit which get you a stylish pair of firm, warm socks. Knit in Riin Gill's Happy Fuzzy Yarn (Corrie Sock in Purple Kale) they will give you quiet confidence in your Clogs or Crocks while you go about your daily grind. | |
| | Izzy's socks, designed by Meg Warren (of March Hare dying and the Defarge books) are a fun-and-breezy knit which leave you with cushy-comfy socks. Knit in Riin Gill's Happy Fuzzy Yarn (Corrie Sock in Cobalt) they will lift your spirits and boost your mood as the winter days start to push in on us. | |
| | Rosie's Firestarter socks are easy-to knit because there's only little panel of something other than stockinette and that runs down the outside of the sock (making a distinct right and a left sock). But because Rosie hates to be bored there's also a Welsh heel (like the WWMDfK? Fosco socks) and a fitted arch.Thus, these suckers FIT.hey hug your foot nicely and the leg bit is easily extendable for you to make it as long as you need. Want to add calf shaping if you decide to go long? It's easy to do because the back of the leg is pure stockinette. (Andi's book Big Foot Knits would help with planning for that). The yarn comes from Riin Gill of Happy Fuzzy Yarn in her Sugar Maple colorway. | |
| | Or you can get the eBook with all 8 patterns! | |