Holly Golightly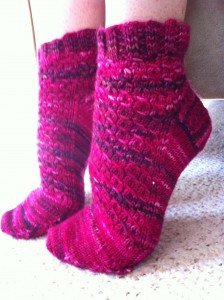 Who doesn't need flip-top socks?!
In the winter, my feet are always cold. Until they aren't any more and I want to take my socks off, but if I do my feet get cold.
You're sensing the problem, no?
And in the winter, do I get pedicures?
No I do not.
It's not for a lack of vanity—it's how cold my feet get after they come out of the water!
At MDSW I saw this gorgeous yarn and it absolutely SCREAMED Holly Golightly to me. I actually may have squealed a little bit… but I'm not sure.
Regardless, I started looking at stitch patterns that made me think of New York circa the Breakfast at Tiffany's movie (not the book, though I loved the book) and found one that reminded me of the old Lollipop building at Columbus Circle  (not the new one–ew). Add that to the hot-cold-foot-problem and…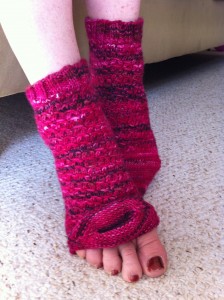 My solution! The Holly Golightly flip-top socks knit in the AMAZING yarn from Dragonfly Fibers (Super Djinni, how do I love thee?)
You can  add to your cart  for $6US.
How to Knit Socks
People need to know.
They just do.
This eBook is formatted to be used on a phone or tablet device—it's formatted sideways.
It's pretty easy and includes all the little words-of-wisdom I can offer—after learning from many mistakes. It's free and it's waiting for you.
You can  download now
Toe-up
This is the companion book to the How to Knit Socks (which is top-down). As soon as I finish the toe-up-with-flap book I'll put them together in a bundle too.
After the surgery.
You can  add this to your cart  for $1.50US.
Sock Heels
In 2009, I taught at the first Sock Summit. In my class I covered how to knit the heels listed below in any gauge, yarn weight, or needle size. Students left with sample heels, worksheets for future use, and a clear understanding of which heel fit them best. Below are links to eBooks which teach you each heel.
I'm now teaching the same class (with more heels!) online (see links in left sidebar).
Chances are you've knit at least one of the heels in these books in some pattern somewhere. When you click on a heel link below you will be taken to a page that includes a photo of the heel and some description. That way you can purchase only the heel instructions that are unfamiliar to you, giving you the chance to find your perfect heel! If you are so inclined, there is also a book that compiles all of the heels together in one book—coming soon!
Each eBook has detailed instructions from heel flap to the end of the gusset. There is also a "speed sheet" at the end of each eBook which is a worksheet you can print out, thus giving you all you need to substitute your perfect heel into any sock you knit.
As with all of my other eBooks, links are live to take you to tutorials or helpful sites. If you have any questions or problems, don't hesitate to contact me.

Dutch Heel eBook

$2.50
This generic heel generally fits any foot.

German Heel eBook

$2.50
The extra garter stitch edge to the heel flap helps eliminate saggy gussets and provides a snug fit.

French Heel eBook

$2.50
This rounded heel is perfect for those who are sensitive to tags, snags and lumps.

Welsh Heel eBook

$2.50
This is a very hard-wearing heel that leads the knitter on quite the adventure along the way.
Sherman Heel eBook
$2.50
coming soon
Toe-up Flap Heel eBook
$2.50
coming soon
Sock Heels—the Complete Book
$12.00
coming soon