Actually, I drink more tea these days, but a tea cozy is a totally different thing.
This puppy fits a cup from that place that's named after a character from Moby Dick but has an odd-looking green mermaid as it's logo (ahem, which lets those of you who hate the place overlook that I'm using their cups as units of measure).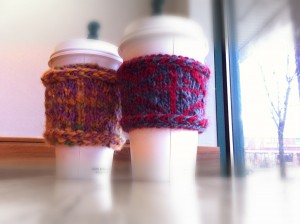 This little pattern is part of my plaited cast-on class, but there is enough information in here for you to teach yourself.
I know. That seems silly, but I thought you'd like to learn even if I can't be right there to teach you—plus there's another pattern we use in the class, too.
It's simple.
It's great practice for British and Continental knitting.
It works well with wickedly varied handspun (I used some of my earliest in one of my test-runs).
It's quick and easy.
And the nice thing about the plaited cast-on is that even if you mess up, it'll look really cool (ask me how I know).
US8/5mm
Lamb's Pride Worsted
4.5sts=1″
Pattern is available in my Rav store which you can buy now and at the Crafting-a-Life Shoppe.