Lotsa socks!
That's what I've been working on, of late. Lotsa socks to go with my new novel.
I roped in Meg Warren who designed Tristan and Isolde
from WWMDfK? and the two of us have been going great guns, getting inspired by the characters in my new young adult (YA) novel Grounded, and generally having a free-for-all sock explosion in our heads.
Whyfore?
Because we're going to be rolling out a new series of patterns inspired by the characters in Grounded!
I know, sound's a little Defarge-like, but we figured that was okay, too.
First up is Rosie's Firestarter socks.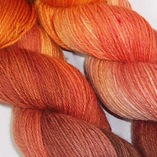 Hannah Rose, Rosie to her friends, is the main character in the YA novel Grounded  (about 370 pgs) and she has a wee bit o' trouble getting control over… well… over a lot of things.
The Firestarter sock pattern will be gifted to you if you pre-order the book (and if you give us your Rav ID when you pre-order, we'll just plunk the giftie pattern into your Rav library). The book roll-out begins October 1st—which is when digital copies of Grounded (and the free pattern) will wing their way to all pre-orderers; paperback copies will start shipping within 2–3 weeks of the release date.
The socks will also have kits! Riin's gorgeous Happy Fuzzy Yarn is our yarn-of-choice for these socks. Kit info is forthcoming.
Once the book is out and pre-orderers have their goodies, the Firestarter socks will be for sale on Ravelry.
We also plan to offer an eBook version of all the sock patterns on Ravelry. We'll do it in a rolling manner where Firestarter will begin the book on October 1st, then every 2–3 weeks we'll add a new sock and update your eBook. I love how Ravelry lets us do that. I ordered Cat Bordhi's eBook that way and it was so much fun!
But lest you think it's all about us, we wanted to invite you to share your designs, too.
Rosie is a knitter, and she knits a very particular pattern during the course of the book (actually a couple, but one is actually a plot point). Rather than designing the pattern for you, I've learned from my work with Defarge designers that there are plenty of knitters who have stunning and spectacular ideas. So I'm inviting you to design and share — on the Grounded site. All the rules are on the page.
I am so excited! Not just to share Hannah Rose and her story with you, but also to see what you design!
If you'd like to read a sneak peek, you can do so here.