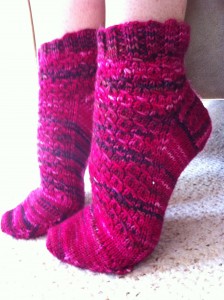 Holly Golightly is one of those characters who stick with you.
These socks are kind of like that too.
Quick to knit but oh-so-comfy, these puppies will keep your dogs warm before, during, and after a pedicure. Great for those of us who have perpetually cold toes as well as those of us who need a little "air conditioning" when the heat is on too high in the winter. These little beauties are worthy of their resourceful namesake.
The yarn sang to me at MDSWF this year and Dragonfly Fibers has nev let me down. You can't go wrong with Super Djinni or Traveler!

 $4.00US