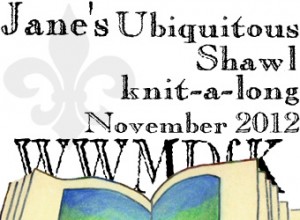 What's better than a Knit-a-Long?
A Knit-a-Long where you can listen to the book the pattern is based on!
That's right! This Friday on CraftLit and Just the Books we begin Jane Eyre and how will we celebrate? By beginning the Jane's Ubiquitous Shawl Knit-a-Long—the pattern by Erica Hernandez featured in What Would Madame Defarge Knit? (vol 1).


We all know this season is—ahem—filled with craftiness, and so we've planned for this KaL to be taken at a slow and steady pace—just the way Jane would have wanted us to. So don't worry if you feel you have too much to do. We do too, and we have a suspicion that a little down time listening to Jane Eyre and gradually knitting Jane's shawl may be the breath of calm you're looking for in this busy season.
Soon, Volume 2 of WWMDfK? will be out and you'll find more yarny numminess from Erica and many other talented designers. For now, though, you can order the first book, grab the eBook, or purchase the single pattern starting Friday via Ravelry and get ready for our leisurely Knit-a-Long.