I have a new pattern for you—one that induced my husband to start calling me a Yarngineer.
Life or Death socks
for Katniss Everdeen from the Hunger Games series.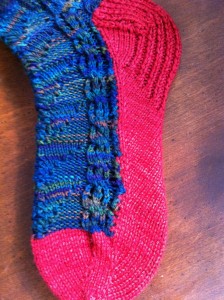 In honor of the opening of the film, I wanted to design a pair of socks I thought would be worthy of Katniss—and able to stand up to the solid beating I imagine that young (hunted) hunter would give to her socks as she ran for her life.
* * *
Below please find specs I thought you might find useful along with a few tantalizing details. If you would like to purchase the pattern you can do it here through
Mama O Knits too Much
, or via my
Ravelry shop
where the pdf will be stored in your Library.
This sock is for the adventurous intermediate or expert knitter (or for a new knitter who hasn't been told that socks, cables, and double knitting are hard, the therefore is able to do anything)
Skills—
knit and purl stitches, YO, right and left leaning increases, decreases, cables
knitting in the round on two circular needles
reading lace and charts; use of stitch markers to delineate repeats
knitting both Continental and British (as commonly done in Fair Isle) is helpful if you wish to include the optional hidden pocket
knowledge of double-knitting is useful but not required. Tutorial included.
Size—
(S,M)L— for accurate fit, measure around ball of Foot (7in, 8in) 9in,
Gauge—
28 sts x 38 rows = 4 in/10cm on sole-stitch stockinette; same on stockinette arrowhead lace
Yarn —
Needle —
— Two US 1 (2.25 mm) circs; cable needle or appropriate substitute tool; one set US 1 dpns for optional pocket
Notions—
— stitch markers or paperclips (many)
Pattern Notes
The construction of these socks is unique. The entire sole is knit first and, thus, is completely replaceable. It is knit with fingering-weight yarn held double to create a toe-up, form-fitting arch which will give you a very firm, cushiony, comforting bed upon which to rest your weary feet.
The instep is decorated with lace, not out of vanity—the one thing Katniss doesn't wrestle with—but for breathability. The instep and leg are knit after the sole, starting at the toe and working up the leg. The first and last stitch of each instep row are used to "seam" the instep to the sole stitches.
The leg pattern ends with an optional, secret, double knit-pocket. This pocket is effectively double knit flat while knitting in the round — detailed instructions are provided.
Adjustments to Sizing:
The lace pattern on the instep has a limited number of options when calculating other sizes. The sole, however, is more flexible. You will be best served to measure around the ball of your foot (where you flex when standing tip-toe) and compare your foot to the measurements given in the pattern. Sole numbers are provided for three sizes (S,M,L). The lace instep includes instructions for tailoring to your size.
The use of two circular needles while knitting this sock will facilitate trying on the sole as you go, particularly during the seaming process, which will give you the ability to achieve a more precise and comfortable fit.
Links
As per the What Would Madame Defarge Knit? books, links in the PDF pattern are live, allowing you to find linked-to tutorials and to move easily within the electronic version of the pattern, jumping to charts from text instructions and back again, as needed, while knitting.
The charts are constructed to work easily in Knit Companion for the iPad (only one chart will need to be rotated).
* * *
I hope this little teaser has tempted you.
Buy now for $6 via Ravelry | Craftsy | Crafting A Life Inc. Shoppe
I'll own that I'm no Cinna, but if you are a girl on fire, these socks will at least give you a comfy place to land.