…six shots of some kind of steroid infused into your neck?
Yeah, until an hour ago, me neither. And yet, now I have.
Here's how it feels: Aieeeeeeeeeeeeeeeeeeeeeeeeeeeeeeeeeee!
Here's how they tell me it will feel tomorrow: Aaaaaah…
Knitting hurts. Turning my head hurts. Supporting my head hurts. Typing in a semi-prone position…oddly this doesn't hurt. Could be the heating pad I'm lying on…
So instead of knitting, I'll update you on my f.o. knitting–it's been awhile, no?
For Christmas, I knit and distributed the following:
A Hot Lava Cardigan (for sister)
Moccasin Socks (Zimmerman's pithy directions—Brother in Law)
standard socks, Welsh heel (Father in Law)
Baby Dottie 12×12 pillow (my take on a Mason Dixon pattern—Step Mom)
Fetching cabled fingerless mitts (BFF Sam)
Plug-n-Play shawl (Amy Singer class— in silk for Mom)
Bubbe the Fuzzy teddy bear (Thing 2, knit with worsted and matching fun fur, by request)
Harry Potter Gryffindor Scarf (Thing 1, by request,  using Meg's Scarlet Letter yarn and a friend's knitting machine)
almost done with socks for Auntie (they were hers, but she got frustrated on the heel turn and handed needles and ball over to me. I was going to surprise her with the fo's for Xmas, but…)
Craft portraits (my take on a project in Mixed Mania) of boys for DH
ALMOST finished two woven scarves. But all-in-all, I'm pretty impressed because I managed to finish the wedding shawl in plenty of time…and the rest of this in the middle.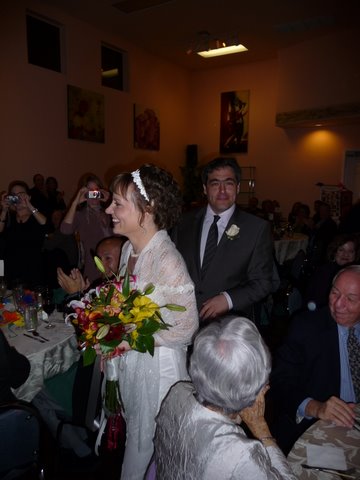 Now I'm finishing the Auntie socks (plain vanilla with Welsh heel), waiting for more of the Scarlet Letter yarn, and writing online curriculum…oh, and prepping for Spring classes.
Then there's that novel I'm still writing.
Golly…that sounds like too much, even for me. Herm.
The other good news is that our holidays were heavenly. This was the first year that I truly had to gift entirely from my stash. No new yarn was bought. There was no money with which to buy new yarn. I was, quite frankly, very nervous giving only handmade…which I know, sounds ridiculous coming from me, but there's something about being able to buy gifts for your family that is…oh, I don't know…adult. And this year wasn't a very adult year when it came to contributing financially to our family unit. Not by choice. Just by the economy.
You know.
So it was weird heading into it and I was more upset, nervous, and stressed than anyone should be after successfully officiating her sister's wedding. The stress was for naught.
But as my husband said, it was one of the nicest Christmases ever. Low key, happy kids, whole family was here (would have liked Bro-in-Law to be there with my fab new Sister-in-Law, but they were on the road), and everyone was happy. Sister's wedding had been a success, as had the honeymoon, (which included sleeping in a Hogon—17 ° outside, 47 ° inside…hellooooo fire!) so everyone was very relaxed. Kids did stockings when they woke up (at, you know…prehistoric hours) then when DH and I were up they opened Santa gifts. Then we waited.
When everyone else arrived we sat down to a rolling breakfast—people just ate when they came, then got up and relaxed.
Did the kids complain?
Nope.
Then present opening was the way I like it: go around in a circle, taking the time to see what everyone got. That way I could explain the knitting (it always has a story) and, I guess I also like it because it's not a free-for-all of consumption. We actually care about what we give each other—maybe more this year than usual—and that's nice. Really nice.
Then hikes, naps, games, and eventually reconvene for dinner.
Pictures of all v. soon.
Now heading towards New Year's. Last year I spent the day spinning yarn. Gosh I'd like to do that again…right now…but I don't think my shoulders will let me.