Ah, the mythic Hair Clip Cap! The post that time forgot.
Sorry, I'd had this scheduled as a draft and didn't get to it in time.
So!
I wrote a pattern for a hair clip hat.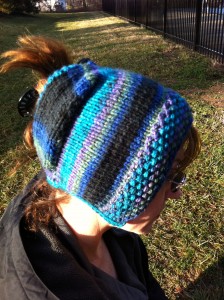 Why?
Because I wear my hair up in a banana clip and I can't fit a hat over the clip!
What you need to know to knit it—
Skills​
 decreasing
 seed stitch pattern
 mid-row cast-on
 crochet
 picking up stitches (with or without crochet hook)
 cutting your knitting (may require addition of alcohol) for steeks-photo instructions are provided
 Having knit a sock heel will help, but isn't required
Size​
 Fits Women M-L and is easily adjustable up or down
Gauge​
 Stockinette or Seed Stitch, 12 stitches = 4in
Yarn ​
 Charisma, Loops & Threads, Bulky (CYA #5)
 Light worsted in a complementary color for button band
Needle
​US 10.5 (6.5 mm) straight or circ
US 9 (5.5mm) circ (at least 20″)
Notions​
Stitch holder, stitch marker.
Right now I have the pattern on Ravelry (where the link below will take you) but I'll be adding a link to the Shoppe soon, too.
I hope you like it as much as I have. On the windy days I think it could use an iCord tie, but 99% of the time, the bonnet structure holds nicely and it's easy to get on and off.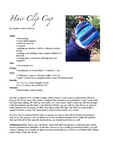 $4.00

Enjoy!