I haven't knit all of the patterns in my first book.
I meant to.
I wanted to.
I'd planned to.
But… well… that's a lot of patterns. I have knit a few (and am happy to report that I continue to be overwhelmed and hugely proud of the book, it's essays, and its patterns) but I have to fess up and say that Jane's Ubiquitous Shawl scared the bejujus out of me.
I don't know why.
I designed and knit two of the Defarge Shawls (and for Heaven's sake, it's a monster), but somehow a pattern I designed seemed less unnerving to me.
Not only have I spent a couple of years seeing pictures of Jane, but I've seen the original in person.
It's gorgeous.
Truly.
GORgeous. The kind of thing that when you pull it out of the box in front of a bunch of knitters in a studio full of knitted items people gasp.
That good.
Personally, I think this has to do with the meaning behind the design as much as the design itself. Erica Hernandez, the designer, went to town on her essay and research as much as she did on her design. She pulled every quote she could find from the book, documenting the fact that whenever something serious or important happened to Jane she was grabbing, touching, or wrapping herself in her shawl.
I don't want to spoil the joy and surprise you get from reading Erica's essay in the book, but each section has deeper meaning. Starting with the central diamond pattern (which is what I'm working my way through now–anticipating I'll run out of time in later weeks during our Knit-aLong).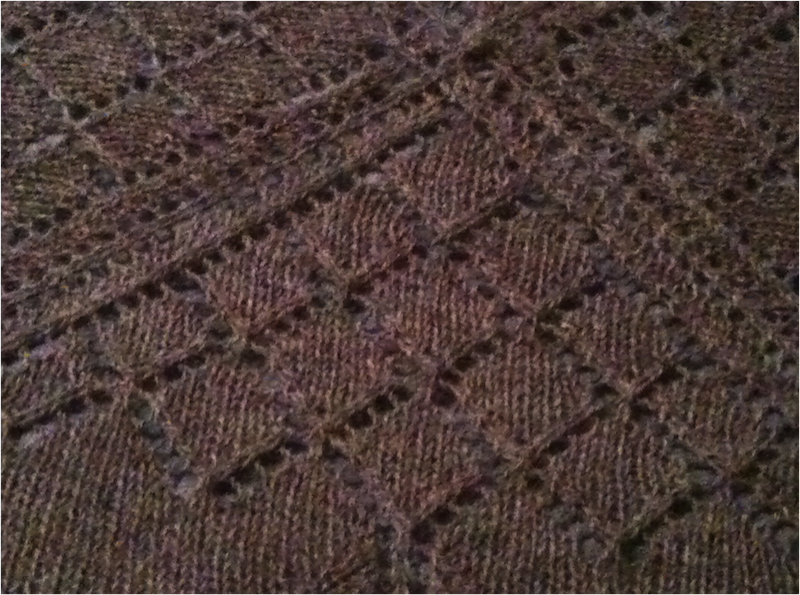 Right now I'm about halfway through the first chart, but don't let that stop you from joining in. The pattern starts in the middle and builds out to the edges. This means it's a fast knit to start with. We've also planned the KAL to be six weeks long. We know it's a busy time for knitters—it is for us too—but we wanted to be sure you could listen to Jane Eyre while knitting and that meant we had to start last Friday.
I'll post progress here from time-to-time but feel free to plunge into the fun whenever the spirit moves you. Jane would always be happy to have you show up whenever—and so would we.