Bob Cratchit is famous for a few things—being father of Tiny Tim, being cold, being basically cheerful, and having fingerless mitts in most representations of him.
While it would be nice to knit some fine-gauge fingerless mitts as Christmas presents, my reality is that I have far too much knitting to do in far too little time. Instead, I worked up this little pattern for our Holiday Hop. For your knitting pleasure, I would like to introduce
The Cratchette—a quick pattern for warm, fingerless mitts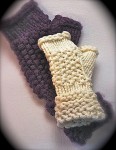 $1.99—pattern includes adult medium and child medium instructions along with ideas for further sizing options; chunky and bulky yarn used, respectively.

Free Pattern booklets coming soon:
How to Knit Socks—DPNs
How to Knit Socks—Two Circs
How to Knit Socks—Toe Up
Check the sidebar of this blog for further pattern updates.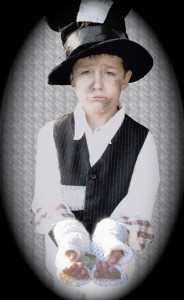 And a reminder that this holiday season a group of us have come together to present a Dickens of a Christmas blog hop:
There will be recipes for the traditional foods Dickens wrote of in A Christmas Carol, or recipes that would have been found in Victorian England around the holidays. There will be a professional reading of the story available as a podcast. There will be giveaways, themed knitting patterns and quite possibly hats! There may be smoking bishop and suet cooked in organs. And there will certainly be much making of merry.
The blog entries will be rolling out starting the week of 8 Nov 2010 and will culminate Thanksgiving weekend to kick off your holidays in Victorian style.
So please do bookmark all our blogs and add them to your rss feeders. We'll be using the tool below to link all the blog entries for the entire shebang so that you don't miss a single one. We hope you enjoy this as much as we know we will! And we hope that you have a DICKENS OF A CHRISTMAS!
Next week! A Christmas Carol podcast!