Part 3, Chapters 1–2 of Gulliver's Travels.
Some adult themes in this one, guys. Caution with the kiddies.
Band camp video coming
The explanatory for subscribing
Tin of Tans genius from Christine.
A Playful Day did a profile of me!
The Anime film Castle_in_the_Sky
* * *
which will allow me to get announcements out to you (like: Surprise! I have a Ning Class going up!). Enter your email below and click the button below.
I will never, ever give or sell your email information to anyone.
* * *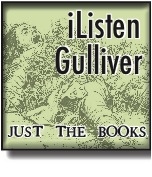 grab the code
PennyWise Consulting's Two Minute Tech Tip, this week we continue with websites by introducing databases.
Podcast: Play in new window | Download (Duration: 1:27:55 — 80.7MB)