Chapter 8 of Gulliver's Travels.
Fun stuff: I'll be teaching at Spin U! Come and have fun with me!
The back pain book is
and the running book is
The apps are Lose It, Map My Walk, and the Atlantic Monthly article is The Perfected Self.
* * *
April/May 2012 incentive winner is TERRI! I'll be emailing you shortly.
And remember, if you subscribe you will get links to new exclusive audio every week!
Defarge 2—What (else) Would Madame Defarge Knit?—this time in color!—is in pre-orders!
* * *
Ehren, I think you'll agree, rocks the Gulliver text.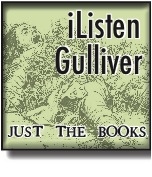 grab the code
Podcast: Play in new window | Download (Duration: 47:55 — 43.9MB)