Part 3, Chapter 5 of Gulliver's Travels.
Not much news.
Gotta run.
Link to explanatory for subscribing and what to do to Jellyfish stings.
Even if you listen to Just the Books…(click here if the Google Form isn't loading…)

* * *
which will allow me to get announcements out to you (like: Surprise! I have new classes in TX and VA!). Enter your email below and click the button below.
I will never, ever give or sell your email information to anyone.
* * *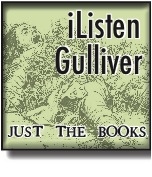 grab the code
PennyWise Consulting's Two Minute Tech Tip, is on brief hiatus. Back in late August.
264audio